The Perfect Pair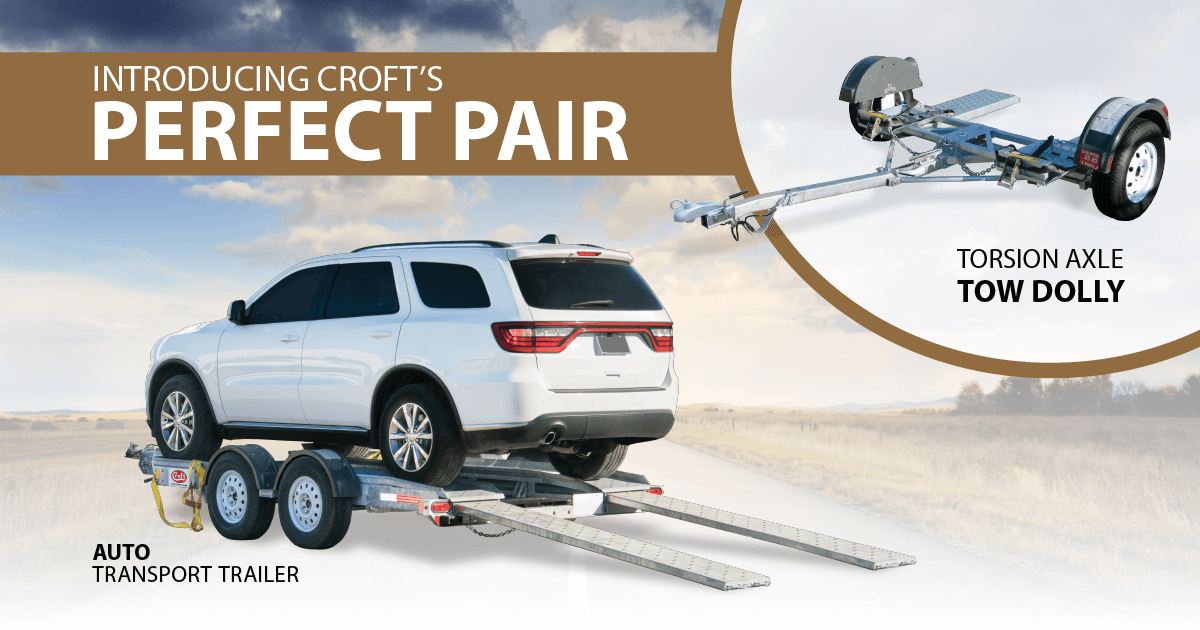 The Croft Auto Transport Trailer and Tow Dolly
Designed specifically for the rental industry, the Croft auto transport trailer and tow doly have the features you need to extend your ROI to the max.
Complete your rental fleet with these two must-haves for rental.
Croft Auto Transport Trailer
Designed specifically for the rental industry, the AT7000C has the features to extend your ROI to the max, including a galvanized steel finish, self-cleaning brake pads, and no maintenance hubs. Integrated ratcheting winches with 3-point tie downs, 8,700 lb polyester straps, and heavy duty 10GA formed auto locking slide-in loading ramps with gussets makes loading quick and easy for customers to use. Also, the auto transport trailer comes with a reinforced step and injection molded, high density polyethylene fenders with a steel support structure ideal for extended use in the rental industry.
Specifications
GVWR - 7,000 lb
Trailer Weight - 2,000 lb
Payload - 5,000 lb
Overall Width - 102"
Overall Length - 232"
Overall Height - 30.5"
Bed Height - 21"
Inside Bed Width - 80.5"
Opening Between Flooring Boards - 39"
Ramp Length (Extended) - 108"
Ramp Weight - 115 lb
Ramp Lift Weight (Extended) - 57 lb
Ramp Angle (Loading Position) - 8°
Learn more about the auto transport trailer.
Croft Torsion Axle Tow Dolly
Croft tow dollies are rental tough and built to last. Long life, no-lube hubs and a rust-free galvanized finish helps make Croft tow dollies one of the highest ROI parts of your rental fleet. The tow dolly comes in two varieties, the CGTD76 and the CGTD76DB.
Standard Equipment
Instructional DVD included
Durable poly fenders
Automatic lockdown when loading
Sealed hubs - 3 year warranty
Croft H3BOS or Demco eZ-Latch Coupler
Rachet or lever action winches
Permanent or removable straps
LED lights and radial tires
Lower profile deck
Disc Brakes (model CGTD76DB only)