Heartland Waterfowl
Croft Trailer Supply has partnered with national television series Heartland Waterfowl on the Outdoor Channel. Heartland Waterfowl (HW) showcases native Kansas City hunters as they document their passion for scouting and hunting waterfowl. The HW team trusts the trailers from Croft Trailer Supply to carry their gear safely and securely as they follow the migration across the country. Check out our trailers in action during Season 4, which is now available for purchase at the HW store. Keep an eye out for Season 5, which will premier on the Outdoor Channel this fall! Learn more about Heartland Waterfowl on their website.
The Heartland Waterfowl Edition Trailer
When Heartland Waterfowl wanted to outfit their trailer specifically for waterfowl hunting, Croft developed the Heartland Waterfowl Edition Trailer. This trailer is packed full of special edition features designed to help you on the hunt, including the all-new Rapid Decoy Deployment system (RDD3). The RDD3 is a highly customizable lock and rod system for storing decoys that is only available from Croft.
Specifications
Interior:
Liberty 12 Gun Safe
Recessed Spare Tire Box
2-Way Air Vents
Spray On Protective Floor Liner
V-Nose Shelving
Rapid Decoy Deployment Gate System (Only Available on Heartland Waterfowl Edition Trailers)
30" Deep Center Shelving
Recessed Wall and Floor E-Track
5000# Recessed Floor D-Rings
Recessed Duel Battery Box
Carpeted Walls
Overhead Cabinets
Overhead Lighting
Directional LED Lighting by Buyers
White Reflective Vinyl Ceiling
Exterior:
Charcoal Metallic Exterior
Rock Guard Painted On Tongue & Rear Member
Bogey Wheels
LED Strip Tail Lights
LED Strip Back-Up Lights
Aluminum Wheels
Directional LED Lighting by Buyers
Rear Barn Doors
Extra Wide Side Door
Rapid Decoy Deployment (RDD3)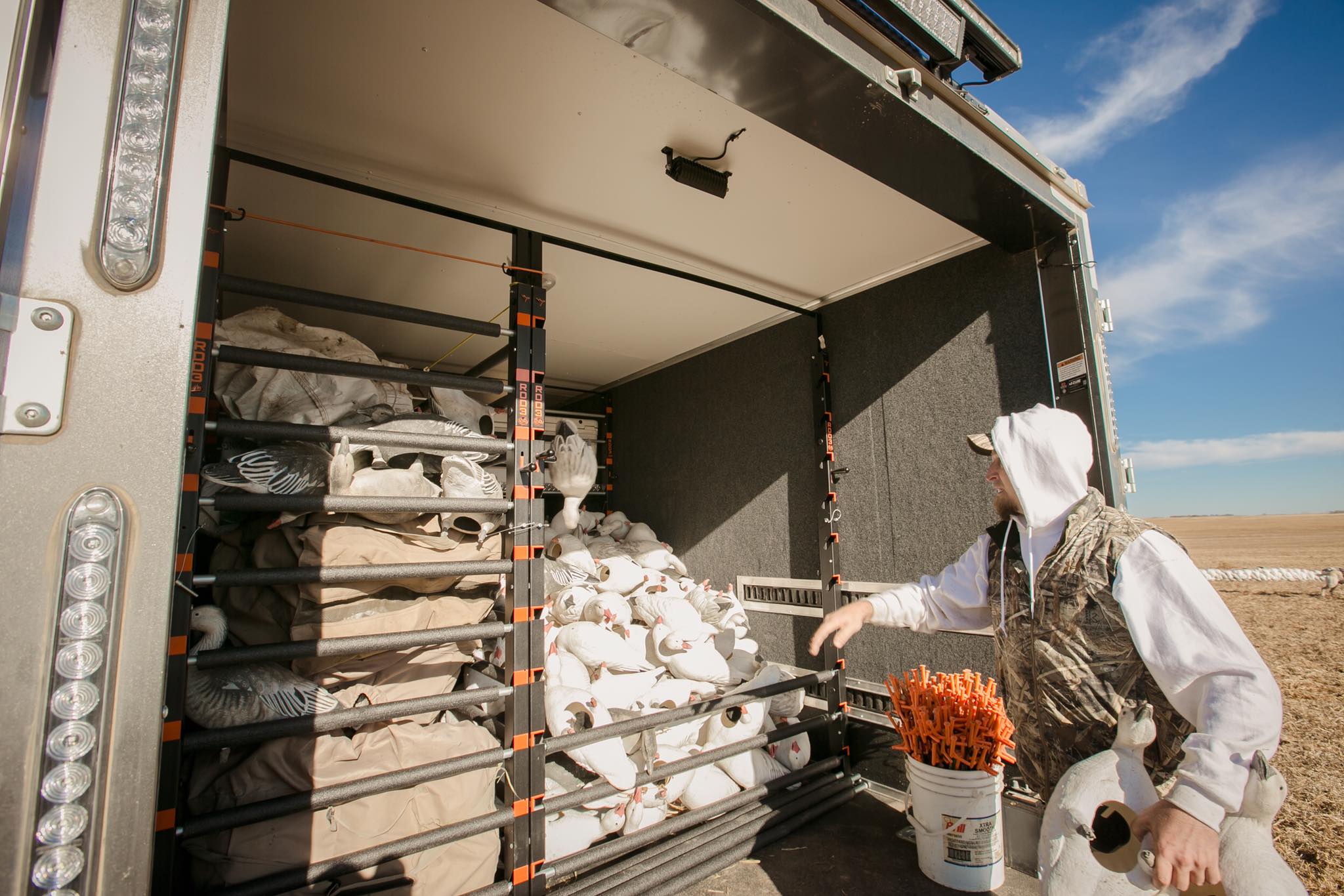 Photo provided by Heartland Waterfowl
The Rapid Decoy Deployment system (RDD3) is a highly customizable lock and rod system built exclusively for the Heartland Waterfowl Edition trailer. To learn more about how you can customize your own trailer at Croft Trailer Supply, give us a call at (800) 426-8159.
Learn more about the RDD3 here or download the product brochure below.
Download the Brochure